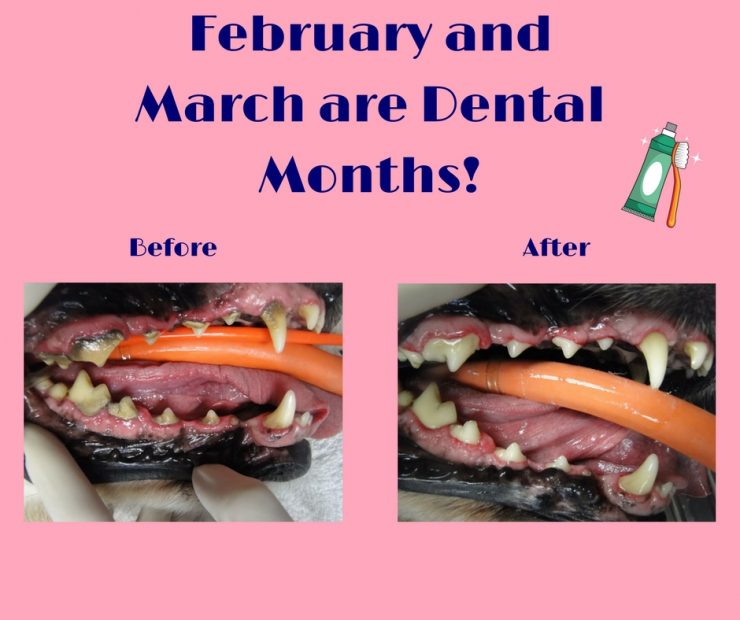 Have you been wanting to get your pet's teeth cleaned?
Well, now is the time!
Our dental procedures are done under general anesthesia and include IV fluids with full mouth dental x-rays. During the months of February and March clients will receive 15% off the dental cleaning and associated extractions.
After the procedure you will receive a dental home care package along with an email with before and after photos of your pet's mouth!
Promotion Terms & Conditions:
•This promotion applies to cats and dogs.
• This promotion can only be applied to pets that have been examined by one of our veterinarians in the last 12 months.
• If we have not seen your pet in the last 12 months, a full comprehensive exam performed by one of our veterinarians will be required to determine the grade of dental disease. A treatment plan tailored to your pet with the estimated cost of the procedure will be provided for you at this time. We cannot give dental estimates over the phone, all treatment plans are created for each pet's dental needs.
• Blood work within the last 12 months will be mandatory for pets over 9 years of age to check their organ function and ability to metabolize the anesthetic.
• This promotion does not apply to pre-anesthetic bloodwork, IV fluids, dental x-rays, injectable medications or dispensed medications to take home.